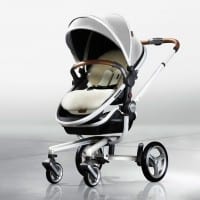 Silver Cross has been making prams for the British Royal Family since 1895.  That's when King George VI was a baby.  They made a pram for the current Prince George and we're expecting they'll make one for Charlotte too.
And guess what? Silver Cross make most of their prams in China!
Chairman Alan Halsall was impressed by Chinese manufacturing quality when he worked in the toy industry.  When he acquired Silver Cross in 2002, the company was struggling.  Halsall introduced modern management practices.  He also brought a global approach – for supply chain and markets.
The company remains true to its heritage and branding as 'the Rolls-Royce of prams'.  History – having a good story – is another quality Halsall believes is important for businesses.
"We kept the British design, but we manufacture in the best manufacturing countries in the world. And in my opinion, the best manufacturing places are the UK and China," Halsall said.
Three signature lines are still produced in the UK, but the company now has 90% of pram manufacture in China.  And by the way, that 'British design' includes co-operation with Aston Martin!
Even when manufacturing in China, far from their roots in Leeds, UK, Silver Cross are very hands-on.  They have worked with their chosen supplier to raise quality to a standard acceptable for Silver Cross.  This covers all elements of the manufacturing process, including raw material, manufacturing, packaging and labelling.
"Key to any cooperation is helping factories understand the importance of quality. We are very insistent that quality has to be at the top. We have quality control teams based at the factories, checking the production lines to make sure products are made as we have instructed," says Halsall.
It's great to see someone who shares Hornet's opinions about the importance of quality.  And about spending time on the ground in China.  Local staff and local presence is a key way we ensure success for our clients.
So will Princess Charlotte Elizabeth Diana have a pram manufactured in China?
It's possible, but unlikely.  Prince George's wasn't.  It was a custom item for a very special baby, as you can see in this video.

Silver Cross haven't just relocated pram manufacture to China, they are also marketing to the Asian giant – as well as to other countries across the world.  With over 10 million customers in 70 countries, this is one company which has got its manufacturing in China right!
Check out the full range of Silver Cross prams here.  (The Surf Aston Martin we pictured above retails for A$5,999 – but that is top of the range!)
(Source http://www.ecns.cn/business/2015/05-04/163990.shtml)