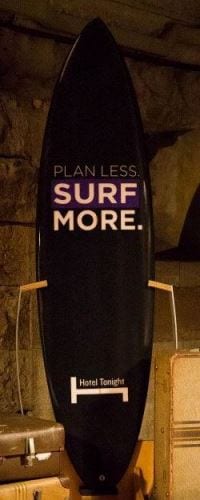 'Plan less. Live more.'
Play more. Relax more. Explore more. Unwind more. Indulge more.
That's the promise of HotelTonight, a last-minute hotel booking app which has just launched in Australia.
('Surf more.')
HotelTonight may be a hi-tech San Francisco start-up, available only on mobile, but it still understands the importance of real world delivery. And Hornet has been delighted to help out.
The press has focused on some really cool features of the HotelTonight app:
you can book a room in just 10 seconds!
discounts of up to 50%
guaranteed rooms available for every night of the year
Meanwhile, Hornet and the HotelTonight team have been doing all we can to make the delivery live up to the promise.
For them, it's been about hand-picking top hotels in Sydney and Melbourne for the launch. About publicity. About organising a launch event and other activities to help stand out in the travel market.
For us, it's been about sourcing a whole range of items to assemble into the HotelTonight 'spontaneity kit'.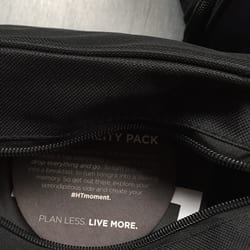 These nifty little bags contain all you need when you make that last-minute decision to stay overnight rather than make the long trek home. Toothbrush, toothpaste, a change of undies. Even a pair of sunnies to hide the bags under your eyes in the morning. Everything in the pack is branded with the HotelTonight logo and the whole idea is to fit in with the company's spontaneous and fun image.
Fun doesn't come without any challenges. We needed the first hundred packs ready on a very short lead-time before the Australian launch. Then we had more time to finalise the bulk of the order.
So how did we do it?
In consultation with the HotelTonight team, we decided to split the sourcing.
For the small initial order, we worked with our sister company Xpadite to fulfil locally. We accessed their network to source items and overprint with the HotelTonight logo and slogans. Local sourcing also meant we could meet face-to-face or talk on the phone with no time difference. Samples arrived overnight or even the same day. And there was no risk of international shipping delays to mess up deadlines.
For the rest of the order, we leveraged Hornet's overseas offices to source more widely and control costs. We used our experience with the initial order to refine specifications and quality checklists too. The separate parts of those orders are all starting to come in now, and we're happy to say the quality is just fantastic.
It wasn't just sourcing goods, though. All those things needed to be put together to make HotelTonight spontaneity packs. We did that in our local Australian facilities, where we're also storing stock until it's needed.
So who gets the spontaneity packs?
Some were sent out to journalists and bloggers as part of a PR campaign around the launch.
Some were in evidence at the launch party last Sunday. (Thanks for the invite, Stefan, Meagan and team!
Some were at the pop-up hotel suite at the Overseas Passenger Terminal in Sydney.
We're guessing some will be at the next pop-up suite in Melbourne in August – but if you want more details of that, you'll have to download the app.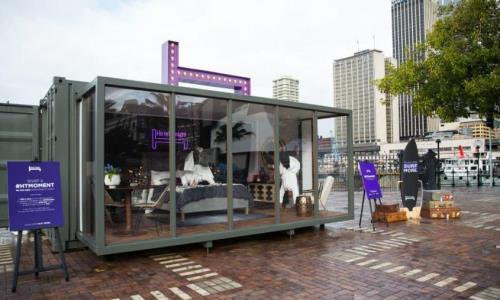 And in case you're wondering, at least one member of the Hornet team has tried HotelTonight in Australia already. Scored a room at $50 less than it would have cost any other way. Had a fantastic time. And true to the HotelTonight motto, it was booked on the spur of the moment.
With fun at work and a great offering like this, HotelTonight is one company Hornet are thrilled to be working with.