Fireworks and firecrackers are a traditional part of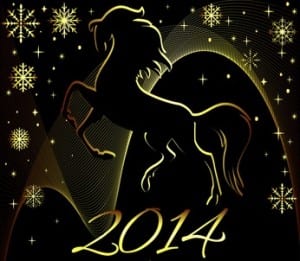 Chinese Lunar New Year celebrations, but 2014 may be a little different.
'Save money, don't burn it!'
In November, the Communist Party of China Central Commission for Discipline Inspection urged officials not to buy fireworks and firecrackers with public funds during holidays. It appears many have heeded their advice.  Hunan Dream Fireworks has previously provided fireworks for many arts and music festivals, but by mid-December 2013 had not received a single government call for bidding on fireworks shows.
From smoke to smog
It's not just the ongoing government frugality campaign which is affecting firework sales – rising levels of smog across China have increased concerns about air pollution and helped swing consumer sentiment.  One online survey showed 85% of respondents promising not to let off firecrackers during Lunar New Year.  Plus, many cities have banned fireworks in previous years in a bid to ease pollution.
Recent stories about sunrises shown on huge LED screens being the only way Beijing residents could see the sun may have been exaggerated, but it remains the case that pollution in Chinese cities is dangerously high.  Fireworks are not the only pollutant to suffer – there are also predictions that automotive sales growth will slow in 2014.
Green fireworks
So what can the fireworks manufacturers do?  Environmentally friendly fireworks which produce less smoke are a part of the answer.  For some companies, these now make up 20% of the product portfolio.  Product development is focused on further smoke reduction as well as minimising sulphur content and metallic particles.
These greener fireworks have helped some companies increase exports, but they are around 10% more expensive than standard fireworks, which slows the rate of adoption within China.
Predictions for the Year of the Horse
There will almost certainly be some fireworks to mark the start of the Year of the Horse on 31 January, 2014, but we can expect less bang and spark than in recent years.  The same may be true of Chinese manufacturing.  The China Manufacturing PMI remains above 50%, meaning manufacturing continues to grow, but it has dropped a few percentage points.  There are also reports that many smaller factories are taking a longer than usual annual break, with weak orders and rising costs suggesting some tougher times ahead.
Hornet's experience is the same – the New Year break is not just early this year, it's also longer.  We are working closely with manufacturers and suppliers on all projects to manage lead-times and keep to client deadlines.
Hornet Group offices in China will be closed from Friday 24 January 2014 to Saturday 15 February 2014.
Source: http://www.globaltimes.cn/content/831486.shtml#.Ut3QWMW4bIV