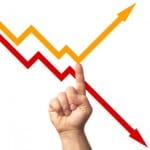 News reports on Australian manufacturing present a picture of gloom more often than not – and indeed announcements of factory closures and layoffs are a sign of continuous contraction in the sector over the last 26 months.  But the Australian Industry Group's September PMI Index offers a glimpse of hope, rising above the 50-point mark into expansion territory for the first time in 26 months.  The US PMI, at 56.2 in July, is also at a two year high.  Maybe the tide has turned?
One month is hardly a trend though, and according to a survey by Cirrus Media, nearly half of respondents believe manufacturing is still in trouble.   Export remains tough despite the easing dollar, and new orders are mostly from Australian customers.  It's not clear how much business is a 'spike' of renewed confidence after the Federal Election, and how much will continue long-term.
What is  clear from the PMI data is that wages and input prices continue to grow while prices are being squeezed.  The pressure is on.
So what can Australian manufacturing do?
The local head of Boeing noted opportunities in "aerospace, food processing, medical devices, mining technology, robotics and unmanned systems, pharmaceuticals and biotechnology, and clean technology."
Coalition policy going into the election included a $50 million Manufacturing Transition Fund – if you're in a hard-hit sector such as metal products, machinery or equipment, it may be worth looking for shift to growth areas like those above.
Don't rely on 'Made in Australia' sentiment.  Research from Roy Morgan shows that 80% of Australian companies have no firm policy of buying Australian-made – price, availability and value are more important considerations.  You need to control costs.  Ironically, one way to do this may be to source sub-assemblies or packaging or specific parts from overseas, so that your input costs are reduced and you can keep your own manufacturing onshore.
***
Overall, it's important to leverage Australia's advantages – strong innovation, world-class universities, good IP protection and a collaborative approach – and to keep the focus on value rather than cost competitiveness.  We'll be watching how trends develop in Australia and across the developed world, over the next months.