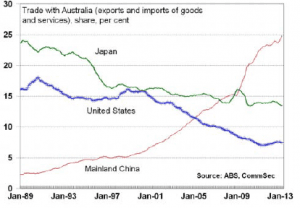 There"s no escaping how important Chinese trade is to Australia.  As Alan Kohler pointed out last night on the ABC, more than 25% of Australia"s total import and export is with China – which is more than our total trade with the US and Japan combined.  And the proportion is growing.
It"s worth remembering this when reviewing recent interactions between the two countries, including Julia Gillard"s visit, which established a new 'strategic partnership' relationship.  This includes annual meetings between the Prime Minister and China"s Premier, Li Keqiang, as well as annual dialogue at foreign minister level and a separate dialogue at treasurer level.  Only the United Kingdom, Germany, Russia and the European Union enjoy a similar arrangement with the Asian giant.
President Li's desire to remain in direct dialogue with the Prime Minister, whom he has now met for the third time, is a positive addition to the formal agreement, especially considering the importance of personal relationships in Chinese business culture.
The political leaders also recognised the remaining 'gap' in the Australia-China relationship.  Free trade talks had bogged down after eight years, but now there is fresh hope for free trade with a new round of talks set to kick off in May with Trade Minister Craig Emerson.
Australian business has been just as active in China as the politicians and financiers.  Not only was the Boao Forum attended by top business leaders from both countries, but April also saw the Shanghai leg of the Australia-China Business Week roadshow, matching Australian companies with Chinese investors and organisations wanting to pursue opportunities here in Australia.  As Mark Richardson of Wolseley Private Equity commented 'they can provide very good and cost-effective solutions – far less expensively than we can do here in Australia'.
ACBW continues in Melbourne in June and Sydney in August.  For more information check www.acbw2013.com.au. [Edit Jan 2014 – this link is no longer valid.  Search ACBW online to find information.]
Both import and export stand to benefit from another big deal announced during Gillard's recent trip.  Australia will become just the
third country after the US and Japan to have direct currency trading with the Chinese yuan. The agreement is intended to reduce transaction and hedging costs for Australian businesses trading with China by eliminating the need to involve a third currency (generally the US dollar) in foreign exchange transactions.  It's worth remembering, though, that the People's Bank of China still manages the US dollar – yuan exchange rate very actively, so the initial benefit will be mostly around reduced transaction costs.
The first licenses to trade were issued to Westpac and ANZ.
Hornet Group and our customers are only a small part of the trade between China and Australia, but it's heartening to see the big players reflecting our day-to-day philosophy: open communication; personal relationships and minimising barriers and bureaucracy.