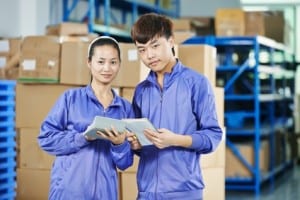 All Hornet's clients know that we have our own offices in China.  It's one of the key ways we ensure quality sourcing for everything we handle.  But do you know that we also have our own warehouse in China?  Or perhaps you don't think that's relevant to you?
There are three main ways Hornet clients can benefit from our warehouse in China.
1. International distribution from China
Many of our clients sell products not just in Australia but internationally.  It makes no sense to import to Australia, then export them again later.  So we oversee manufacturing and quality control, then we ship some goods to Australia and some to our warehouse in China.
As orders arrive from overseas distributors, we pick, pack and ship direct from China to those countries.  Freight is quicker and cheaper than from Australia.  Warehousing is cheaper than domestic storage too.  So our clients benefit in at least three ways!
They may get a fourth, hidden benefit too.  Combining volume requirements for business in multiple countries means a higher production volume.  It may be possible to cut cost per unit, increasing margin.
Clients use this drop-shipping model for products such as custom packaging, industrial goods and homewares.
Drop-shipping from China is not always best. It works well if you have good international trade volumes.  That generally means bulk shipments to distributors, agents or retailers.  If you're an online store with only a few overseas sales, there's generally not much value. The courier costs for drop-shipping are not much different.  Plus, you have to bear the costs of warehousing, and manage stock levels, in two countries. That makes your operations more complex.
If you're not sure what's right for you, contact Hornet to discuss your options.
2. Order consolidation in our China warehouse
Some clients ask Hornet to manage production of multiple different products for the Australian market.  These may come from different factories and be ready at different times.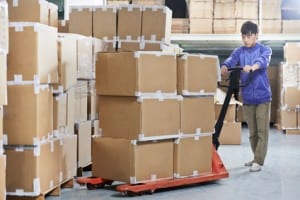 Combining orders into a single international  shipment can save a lot of money.  It's most effective when we can use one FCL shipment instead of two or more LCL shipments. (If you don't know what FCL and LCL mean, find out here.)
The process is simple.  We have completed, quality-approved orders shipped to our warehouse in China, and store them until all shipments are ready.  We then pack everything on one bill of lading to send to Australia.
Order consolidation works best when orders are completed around the same time. It also helps if your deadlines are not too tight.
3. Fulfilment services in our China warehouse
Other clients have complex products, where parts may be sourced from different suppliers and require assembly into one unit.  This could be an industrial item product – say installing lightbulbs in lamps.  Or it could be a retail gift pack.  Imagine a luxury toiletry set, with a branded bag made by one supplier, brushes from a second supplier and soap or lotions from a third.
Chinese labour costs may be rising, but it's still cheaper to assemble than in Australia.   Recently we worked with a major university to source branded custom manufactured items.  They included a unique gift box together with notebooks, tablet covers, pens and other stationery items.  We assembled everything into student welcome packs in our China warehouse.
Fulfilment and product assembly in China has another potential advantage too.  It can help to protect your intellectual property.  If you're sourcing a complex product from China, Hornet can use different factories for different parts.  Everything is delivered to our warehouse in China for final assembly.  So no supplier has all the details to copy your product.  Nor do the staff doing assembly.  (Even if they did, they are Hornet employees. We're an Australian company who don't manufacture, so there's minimal risk.)
Where is Hornet's warehouse in China?
Hornet Group's warehouse is in Dongguan.  This is convenient to Shenzhen and Huangpu, Port Guangzhou, as well as many production areas.
To find out more about our warehouse in China, please contact Hornet.