AGSM and The Garden contacted Hornet Group about the 'Blue Box' in mid-2014.
We loved the idea.
A digital age version of one of Australia's most recognised business status symbols – the AGSM blue binder.
A welcome pack which could both deliver the promised flexibility and interactivity of digital learning, and become an enduring memento for decades.
We knew from experience that our suppliers and connections in China could deliver the luxury and quality required.
To make the project happen, we needed to source multiple items.
'We were very grateful to Hornet for their outstanding management of this huge project. Ilga's honesty and practical approach was very much appreciated and the team's response times when trying to overcome challenges was excellent.'
Box Contents
iPad covers. In custom blue fabric to match the traditional Blue Binder. Embossed and foil-stamped with the AGSM logo.
A5 notebooks. Covered in the same custom blue fabric. Also embossed.
Pens with integrated iPad styluses. Individually packaged in felt bags with an elasticated fastening.
Even heavy stainless steel spinning tops shaped to echo the 'star' of the AGSM logo. They had to be serious spinning tops too – smooth, quality steel with a solid weight, well balanced so that they would spin. A future 'executive toy' for the corner desk.  Jack in our China office tested many contenders before we found one which worked!
Packaging
Just as important was packaging this digital study-enabler. AGSM needed a Blue Box which could live up to the 'value placed on the blue binder'.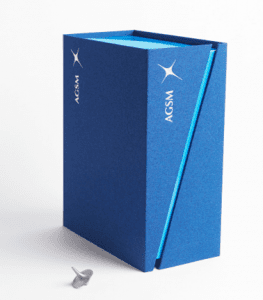 It was custom-designed and custom-made.
Two shades of blue recalling the original blue binder
A stylish and sturdy case with striking diagonal design elements, in the same blue fabric used for the iPad and notebook covers.
Embossed and foil-stamped with the AGSM initials and star on the outside. Opening up to display the University of NSW crest on the inner lid.
All encased in a custom-made, custom die-cut protective outer sleeve bearing the University and AGSM branding elements.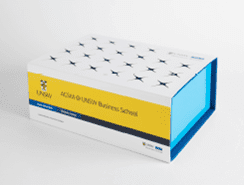 We worked with six different suppliers in China to oversee the manufacture of these multiple elements. Each item was sampled and reviewed – against rigorous quality standards to ensure everything would be perfect. Our China team conducted final inspections personally, until we were confident everything was ready to ship.
All in time for the next intake of students.
Over just two months, Hornet sourced many different suppliers, inspected numerous samples and oversaw production of thousands of individual items. We managed the importation of all components to Australia, where our sister company Xpadite handled final assembly.
Which meant AGSM's next MBA intake received a Blue Box capable of supporting digital learning.
 'The whole team went above and beyond to make sure our products were delivered in the best condition, on time and that every student had a great discovery experience when opening the boxes.'
A worthy successor to the blue binder.
And a point of differentiation for AGSM.